Site information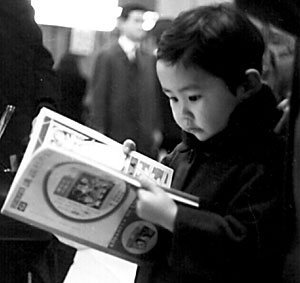 About Just Bento
Just Bento is owned and published by me, Makiko Itoh. I am a Japanese woman, born in Tokyo; I may either be in Yokohama, Japan or near Zürich, Switzerland when you see this. (That's me in the photo at age 3, reading yet another book.) Besides Japan and Switzerland, I've also lived in France, the UK and the US for extended periods. While I am passionate about promoting Japanese cooking and culture, I'm also interested in plain, simple, delicious and easy to prepare food.
Just Bento is dedicated to the subject of healthy, simple bento lunches, some traditionally Japanese, some not so traditional. The focus is on bentos for health and weight-conscious adults, but many of the recipes and methods are applicable to bentos for all ages. The site was established in October 2007, and has rapidly grown to be one of the top destinations for people interested in bentos or obentos (お弁当)in English.
Just Bento is the sister site of Just Hungry, perhaps the best known Japanese recipe blog on the internet. There's a lot more about me on the About page there. I have also recently started a site about general Japanese culture and society called Just My Japan.
If you're new to the site, you may want to start here: How Just Bento is organized, and finding your way around.
Privacy policy
Cookies: Cookies are small bits of data that are stored in your browser, and retrived by sites you visit online. Some cookies are set by Just Hungry and/or Just Bento in order to track site usage, logged in status, and so on. Cookies may also be set by scripts used by our advertisers. To the best of our knowledge, none of these cookies are of a malicious or invasive nature. If you have any problems or questions regarding cookies, please contact us. Please also consult our full privacy policy.
Copyright and usage terms
Advertising/Support Just Bento
Please see our advertising and support terms.
Contact
Please contact the owner at maki at her full name (above) dot com, or via Twitter.
(Last updated August 2019)