Menu For Hope IV: Donate for a chance to win a bento maker's dream package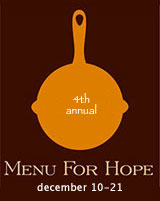 Just Bento is happy to announce that we're donating a prize for Menu For Hope, now in its 4th year. Menu for Hope is an annual charity event contributed to by food bloggers around the world. It was instigated by Pim of Chez Pim, and this year's regional European host is Fanny of foodbeam.
Menu For Hope IV will benefit the United Nations World Food Programme; this year's donations have been earmarked for the school lunch programme in Lesotho, Africa.
The Just Bento prize: The Bento Maker's Dream Package
The code for the Just Bento prize is EU14.
Just Bento is donating a two part prize that we're calling The Bento Maker's Dream Package. It consists of the following:
A box of goodies of the winner's choice, worth up to 10,000 yen (approximately US$90 at current exchange rates) of bento making supplies directly from Japan. Whether it's some new cute bento boxes, wiener cutters, onigiri molds, or a special wooden bento box, the choice is up to you. Or, you can leave it up to us to put together a selection for you. (The photo shows just a few of the sort of items you could be getting.)
Important change: Any bento box featured up until the deadline as Bento box of the Week on this site, including this beautiful handcarved box with matching hashi box and hashi, can be selected even if the retail price is over the limit!
1 copy of Kihon no Obento (Basic Obento), a great, oversized mook (magazine format book) published by Orange Page, which is described in detail in this post. It's a great book for any bento maker interested in traditional Japanese bentos, even if you don't read Japanese. But this prize will come with a priceless extra: English translations of all recipe pages.
With this Bento Maker's Dream Package, your bento making adventures can go into full throttle. And it could be yours for a donation of as little as $10!
The fine print
This prize package contains no food, so it can be shipped worldwide. The book and the bento goodies box will be shipped to you separately, as gifts. Any customs duties due, if any, are the responsibility of the recipient.
How to bid
Go to the donation page at http://www.firstgiving.com/menuforhope4.
Make a donation! Each $10 will give you one raffle ticket toward a prize of your choice.
Please specify which prize you'd like in the 'Personal Message' section in the donation form when confirming your donation. The prize code for the Just Bento package is EU14. Please specify which prize or prizes you'd like in the 'Personal Message' section in the donation form when confirming your donation. Specify how many tickets per prize, and please use the prize code - for example, a donation of $50 can be 2 tickets for EU13 and 3 for EU14. Be sure to check the "I am happy for the page owner to see my email address ..." box at the bottom! This will allow the organizers to contact winners.
Here's an example:

The deadline for donating is December 21.
Check back on Chez Pim on January 9 when the result of the raffle will be announced.
Last year, Menu For Hope raised an amazing $62,925. I hope you will take the time this year to donate to a very worthy cause, with a chance to win a whole bunch of bento making supplies, plus a great book!
And, if you'd rather indulge yourself with lots of chocolate, take a look at the Menu For Hope prize offered by Just Hungry instead! Or go nuts and donate/enter for both! You can also check out the list of great prizes offered by Europe-based food bloggers, or complete worldwide list.
If you enjoyed this article, please consider supporting this site by becoming my patron via Patreon.